GFC Treatment In Bangalore
According to global health data, most people are facing severe hair loss nowadays. This condition may be triggered by any kind of health issue like autoimmune disorder which is known as alopecia or hair loss because of excessive stress or side effect of chemotherapy treatment for cancer. Most of the time people gradually lose their hair and the hair does not come back to the scalp. So people starting to lose their self-confidence and keep hiding from society. They need a permanent solution that provides an effective result without causing any kind of damage.
The dermatological world has now opened a new window that can easily treat hair loss problems with the hair Regrowth solution. This procedure is different than the traditional hair transplant procedure. This procedure is known as the growth factor concentrate procedure. Here, all the details are given.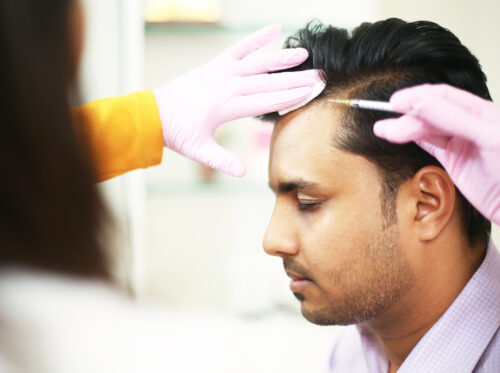 What is GFC Treatment?
Dermatological experts always recommend the GFC treatment or growth factor to concentrate on a unique procedure. In this treatment procedure, dermatological experts use patients' blood and prepare a highly concentrated growth factor for the treatment. 
The good factor increases the new number of hair on the scale. The procedure is completely safe like hair transplant therapy no kind of surgery is involved with this procedure. The growth factor with high concentration is injected into the scalp skin and stimulates the hair follicle so new hair can grow fast. 
This procedure is beneficial for hair Regrowth treatment. With minimal medical expertise, a dermatological expert can easily perform the procedure.
How Many Sessions of GFC Are Required?
This matter depends on the need of the patient and obviously on the dermatological expert. 4 or 6 sessions are needed to complete the procedure and each session needs at least a 3 to 4th-month gap. Patients who have empty scalps due to alopecia need more sessions and people who have thinning hair do need not so many sessions. After the treatment few weeks, or 6 months are needed to show the result. That is why people have to wait for the result with some patience. People should not perform more sessions unnecessarily or without talking to a dermatological expert. Otherwise, this procedure can make trigger any kind of side effect and that will not be a good matter for the body. With the advice of a dermatological expert, people have to perform the treatment session according to their needs. Not more than that or not less than the required session. 
Is GFC Treatment Safe?
If people think that whether the treatment is safe or not then the answer is the treatment is completely safe. As dermatological experts use patients on blood to make the highly concentrated growth factor so the patient's body never rejects the preparation. As the highly concentrated growth factor contain the same DNA and protein as platelets like the patient blood have so it is completely accepted by the body.
Now patients may ask whether these procedures involve any kind of surgery or not. This procedure is completely safe as no kind of surgery is done. Dermatological experts only push the growth factor in high concentration into the scalp with the help of a small needle. Before doing the procedure experts always use local anesthesia, so patients will not feel any minimal pain. That is why this procedure is completely safe and recommended by most dermatological experts.
Is GFC Hair Treatment Effective?
Whether this procedure is safe and the patient always demands to ask about the effectiveness of the procedure. This procedure is highly effective and provided good results in the treatment of hair loss problems. A highly concentrated growth factor stimulates the hair follicle and new hair growth on the scalp in a faster way. Not only that this growth factor with I concentration deposit a high amount of collagen fiber around the hair follicle. Because of the high amount of collagen, the new hair becomes darker and stronger.
So, it gives volume to the new growth hair and also provides a scalp with a fuller look to the patient. People who have very thin hair or no hair on the scalp can easily take the benefits of these amazing procedures. Most of the time people suffering from alopecia and chemotherapy side effects or any kind of stress induce hair loss face the main problem with hair loss in a massive way.
This treatment helps to reduce hair loss effectively as it stronger the hair root so the hair does not fall easily. Almost 60% of cases have an effective result which is why dermatological experts recommended this treatment procedure for hair loss therapy.
Does GFC Regrow Hair?
Is this procedure also effective for hair regrowth? These procedures increase the collagen deposit around the hair follicle cell so new hair grows with excess volume and strong roots. If a patient has a pattern of alopecia with small patches or the entire scalp is bald and has very thin hair on the scalp mostly hair Regrowth can solve the problem. but in most cases, hair growth needs time and people cannot have a permanent good solution.
This procedure provides a permanent solution to hair Regrowth and the hair becomes stronger and darker. New hair takes more time to fall as its root is highly strong because of the activated hair follicle cells. Collagen fiber also makes the hair quality improvement to the previous hair type.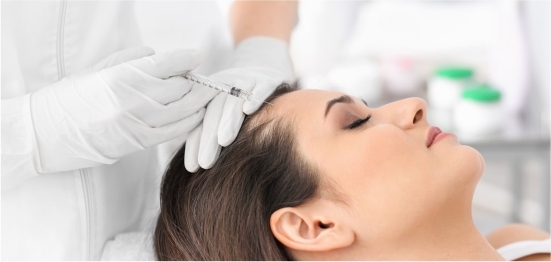 If people have a broad forehead then this procedure can also help to make a new hairline. That is why dermatological experts always recommended this procedure.
Benefits of GFC Treatment:
This procedure is highly beneficial because this procedure tags very less time than the hair transplant procedure. No kind of surgery is involved with this procedure and dermatological experts do not cut the scalp to treat it. Minimal local anesthesia is applied for the treatment so patients do not feel the pain of the injection. The patient can easily return to their normal schedule after the treatment and they do not have to stay or admit for the treatment in the clinic. There is no kind of restriction on food or work so the patient can delete their daily schedule before and after the treatment very easily.
This procedure is pocket friendly and effective so the patients will be satisfied with these deals. This procedure is highly effective in not stopping hair fall but also in hair regrowth so patients who suffer from severe alopecia or hair loss due to chemotherapy or cleaning of hair can easily take benefit from this procedure. As the preparation is made from the patient on blood containing the same protein DNA so this procedure is completely safe. No kind of side effects is reported in this procedure so patients of any age especially young adult and senior can easily perform the treatment.
So, people who need treatment for mainly hair growth or stopping hair fall can easily take benefit from GFC treatment. A high growth concentration factor will provide an unexpectedly good result after the treatment within a short period. The newly grown hair will increase the self-confidence of the patient and they can socialize again like before they do. This procedure is completely pocket friendly and every people can benefit easily. So, if people are interested to know more so find the best dermatological expert and dermatological clinic in Bangalore and book an appointment as soon as possible.