Low Level Laser Treatment For Hair Loss
As alopecia and hair loss problems are increasing day by day, it becomes a big issue among young and adult people. Some treatments might stop hair loss but unfortunately do not provide the hair regrowth opportunity. So people can take the benefit of a hair transplant which is a little painful or need to have to use a false hair wig as the solution to hair loosing. 
But there is good news for this problem now, because revolutionary treatment can perform by the dermatologist with advanced technology and equipment which can solve the hair loss problem permanently. The treatment is low-level laser therapy. Let's see what is low-level laser therapy and its benefits as well as other details of it.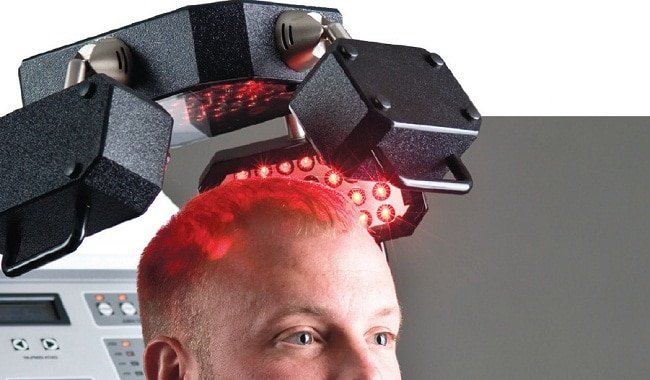 What Is Low-Level Laser Treatment?
Low-level laser therapy is also known as low-intensity light therapy cellular activity in the tissue of the scalp. This procedure is associated with a range of wavelengths from red through infrared laser light that promotes tissue repair and regeneration. This procedure was approved by the US FDA in 2007. The laser action may normalize the physiological regeneration of scalp tissue affected in various hair loss disorders such as alopecia and its several types of chemotherapy-induced hair loss. 
Generally, before that laser therapy was commonly used to treat any kind of skin surgery. But now this procedure opens a new window for the patient who is suffering from hair loss problems due to alopecia or any kind of treatment like chemotherapy.
How Does the Low-Level Laser Work?
The mechanism and action of this treatment of hair loss are not so common, it depends on several theories. It is suggested that the hair growth stimulatory effect of laser phototherapy is mediated through a direct or an indirect increase of the proliferative activity within the hair follicle epithelial matrix. The low-level laser therapy may accelerate keratinocyte and fibroblast mitosis by generating reactive oxygen species and antioxidants. The cellular chromosphere responsible for the effect of visible light is cytochrome c oxidase with an absorption nature in the near-infrared and the mitochondria in the cells, so likely the site for the initial effects.
The hypothesized mechanisms of action of low-level laser therapy are: 
Increased ATP production in the mitochondria

Modulation of reactive oxygen species

Induction of transcription factors like nuclear factor Kappa b and hypoxia inducable factor one.
This procedure enhanced gene transcription and protein synthesis contributing to cell proliferation and migration. The most widely accepted mechanism is that low-level laser therapy displaces nitric oxide from COX and allows an influx of oxygen to bond to COX and progress forward in the respiratory process of adenosine triphosphate production and ROS signaling. This procedure leads to increased cellular proliferation and modulation in the level of cytokines and growth factors as well as inflammatory mediators and increase the tissue oxygen level. Several studies have shown, that this procedure can decrease inflammation which may then activate hair growth. The trials of this procedure have shown decreased inflammatory factors and an increase in anti-inflammatory factors called cytokines.
 The spectacle mechanism for low-level laser therapy and hair growth-promoting effects is the direct stimulation of hair follicle stem cells in the hair fall region on the scalp. Other evidence also suggests that the transition to the anagen phase might be a result of the combination of effects between direct stimulation on cell proliferation of outer root sheet keratinocytes and dermal papilla cells, the release of paracrine growth factors from the dermal papilla cells which in turn stimulate the proliferation of outer root sheath keratinocytes. 
So according to the hypothesis, the low-level laser treatment triggered mitochondrial biogenesis which increases the oxygen level and indirectly helps the regeneration of hair follicle stem cells. 
Initially, this procedure was done by using hoods but it became a questionable problem especially in females with long hair as the laser light cannot penetrate the scalp. Later in the year 2007, a laser light comb was approved by the FDA to treat hair loss problems. The experiment was first done on men, and in letter 2011 it was approved by the FDA for the female who has pattern hair loss. Another device called the laser cap is also approved by the FDA and is considered to be the home therapy device to treat hair loss.
What Are the Benefits of Low-Level Laser Therapy?
This therapy is highly beneficial for people who are seeking a permanent solution for hair loss treatment and also want back their hair on the scalp. The benefits of low-level laser therapy are given below: 
This procedure is completely safe because no kind of surgery is performed in the therapy.
Young adults can get benefit from this therapy because it is completely safe for them.
Hair can grow back on the scalp after laser therapy treatment.
No scar will be visible and any kind of pigmentation will not appear on the scalp after the laser therapy.
It is a completely painless procedure.
No kind of injection will be injected into the scalp and no kind of anesthesia will not be performed during the procedure.
Treatment does not take much time and after some rest, patients can back to their normal activity.
With the modern device of therapy that treatment can easily perform by an experienced dermatologist.
For this therapy, patients do not have to stay before and after in the clinic for a long time.
There is no kind of maintenance needed after the treatment or before it.
Is Low-Level Laser Therapy Safe for Hair Loss? 
This therapy is highly beneficial and safe for people who are suffering from alopecia as well as hair loss for chemotherapy treatment. This procedure increases the mitochondrial activity in the root hair stem cells of the scalp, so it induces the regeneration of hair follicles. As a result of it, hair starts growing back on the scalp. No other treatment for hair loss problems can assure the growing back of new hair on the scalp. Only low-level laser therapy assures the regrowth of hair after the recovery of alopecia as well as other hair fall-associated problems.
Although this procedure is highly beneficial and safe but some patients can feel some side effects. Those side effects are
Burning sensation on the scalp

Redness on the scalp

Itching on the scalp

As well as headache
Side effects mostly appear when the laser treatment is not properly done by the dermatologist. Another problem is that this procedure is quite more expensive than other treatments. Otherwise, the procedure is safe for adult people as well as young adults who are suffering from hair loss problems.
So people who suffer from any kind of alopecia or hair loss problem because of chemotherapy can do low-level laser therapy to have a permanent solution. They can get new hairs on their scalp as well as also can have the cure for alopecia or other hair loss problem. But always remember to take the best advice from trusted dermatologists who have experience with this procedure. So, find the best dermatologist in Bangalore and take the benefits of the revolutionary solution of low-level laser therapy for hair loss, for sure you will get a better result.